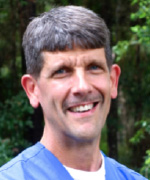 Robert Dieter was born in Daleheart, Texas in 1966 and began his life on a farm. His family moved to the Northwest when he was three years of age. He learned to love the outdoors and has called many places home, including Oregon, Idaho, Utah and Colorado.
He acquired a Bachelor's degree in Health Science at Weimark College in Northern California. Then he obtained an Associate's degree in Physician Assistance in 1992 at Kettering College of Medical Arts, in Ohio. His first job was in General Orthopedics in Tillamook, Oregon. He moved to Orlando, Florida in 1995 and obtained valuable experience in physical medicine and rehabilitation, wound care and spine surgery.
Robert joined us in January of 2010 as a Physician Assistant, and has been enjoying all phases of our practice. He has been invaluable in our patient care. He counts himself blessed to be part of the well-trained staff and he finds pleasure in making a difference in the lives of others. He is married with five children, and has an appetite for healthy multi-cultural vegetarian foods and physical activities, including biking and swimming.