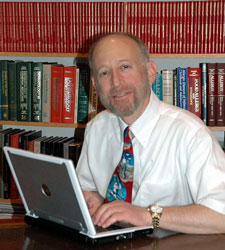 If it seems as if there is a computer everywhere you look in the office, you are probably right. We are looking at them too!
In 1998, after serving as Chairman of the Medical Records Department at Citrus Memorial Hospital, Dr. Marcus set out to create a system of computer-generated medical records for his practice. His goal was to have accurate, detailed records that are easy for any physician to read and interpret, and completed at the time of your office visit. He attended many national meetings with other physicians interested in the same goal and has spent countless hours over the years developing a system unique to his practice. The system is constantly improving and we have now changed to a standardized Electronic Medical Record (EMR), which we have adapted to maintain the most comprehensive, accurate and easily accessed system we can provide.
Your medical record begins on each visit as the office staff enters your medical information. Doctor Marcus then reviews and updates it and adds his findings and other information directly into your chart. He considers every detail of your history, physical and test findings to be important, and he spends a great deal of effort checking the accuracy and completeness of your chart prior to your leaving the office. In most cases, everything is transcribed into your chart at the time of your visit, and copies of consultations are sent to your referring physician without delay. Dr. Marcus designed the system so that even drawings made by him, photographs, audio clips and even video clips can become an integral part of the computer transcription. When you check out of the office, the staff will double check to see that Dr. Marcus's orders have been carried out. Your records are accessible to Dr. Marcus even when he is not in the office. Protection of your privacy is of utmost importance to us. We will not release any information about you to anyone without your permission (please ask to see our HIPAA form for details). If you request copies of your medical records, we are happy to provide them to you at a nominal charge, or you can access them at any time at your convenience on the Internet portal that we create for you.